We're not here to convert you (though we just might anyway). Brussels sprouts get a bad rap around the vegetable neighborhood, especially among the picky-eaters crowd. There's plenty of recipes out there claiming they can turn even the most veggie-averse into a Brussels sprouts fan — but this is not a list for haters. This is a list for Brussels sprouts lovers everywhere, who can't get enough of those little green orbs and want them in every dish at every meal. Sprout lovers, we salute you. And we might just pick up a few converts on the way.
10. Brussels Sprouts Chips
Dear kale: It's time to gracefully make your exit. There's a new vegetable chip in town, and it's featured three ways over on sixtyone45.
9. Roasted Brussels Sprouts with Apple and Gouda Grilled Cheese
This sandwich at The Corner Kitchen has just the right amount of yum coming in from all directions: soft gouda, tart apples, and nutty greens on grilled, buttery bread.
8. Brussels Sprout Au Gratin with Horseradish and Parmesan
Sprouts are full of anticancer properties, so do your body a favor and make this gratin from Natalie's Daily Crave.
7. Crispy Fried Brussels Sprouts with Chili Sauce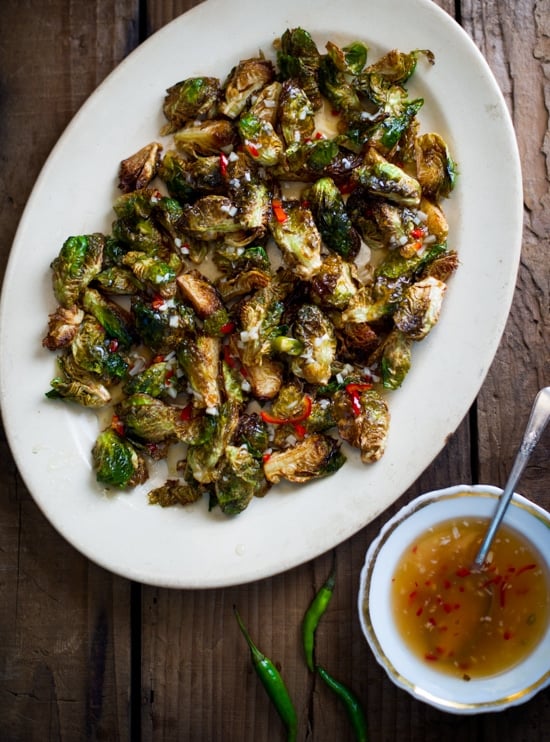 Is there anything the world cannot fry into deliciousness? White on Rice Couple's blog would lead us to say no.
6. BBQ Cheddar Brussels Sprouts Pizza
Girl Makes Food. Girl makes us want to eat food. Girl proves that sprouts are good on everything.
5. Brussels Sprout and Mushroom Skewers with Miso Sauce
Don't put the grill away for winter storage just yet. These kebabs are winter- and vegan-friendly, and can be found on Dishing Up the Dirt.
4. Creamy Brussels Sprout & Shallot Dip
Easy to make and even easier to eat, Minimalist Baker's cheesy dip is sure to convert a sprout naysayer, or seven.
3. Brussels Sprout & Grape Galette
Oh My Veggies' combo seems strange at first, and perfect once you go for it. A perfect feast for your next gathering of Spouts Lovers.
2. Garlic & Herb Stuffed Brussels Sprouts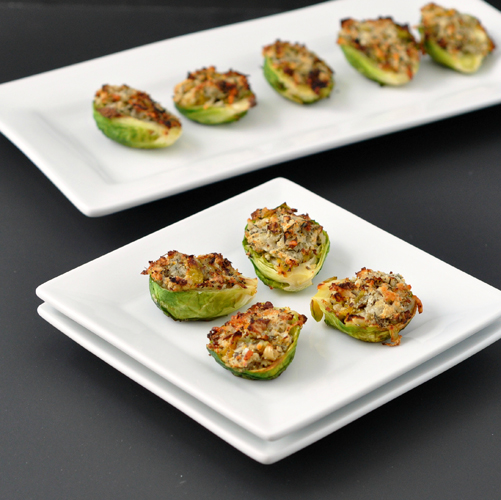 Finger food appetizers are always in demand. These nuggets from The Way To His Heart will be sure to please the masses.
1. Brussels Sprouts Latkes with Balsamic Dijon Sour Cream
Is this the perfect Thanksgivingukkah fusion food or what? My Name is Yeh makes great latkes green with, you guessed it, shaved Brussels Sprouts subbed in for potatoes. L'chaim!