Fall. Football. Food. We're sensing a pattern here. But no matter your pigskin alliances, there's one thing we can all agree on: there's no tailgating flavor quite like Buffalo-style chicken. Spice up game day with these creative takes on the old standard.
10. Baked Buffalo Wings
Before we get too fancy here, let's start with the basics. These wings from Jo Cooks are baked, not fried — so you can save yourself some calories, and save the delivery boy a trip.
9. Buffalo Chicken Dip
For the ultimate game day dip, we turn to the authorities: Frank's RedHot. Serve with chips, crackers, vegetables, or just eat by the spoonful; we won't judge.
8. Layered Buffalo Chicken Nachos
Synergy at its finest: How Sweet It Is combines two perfect tailgate foods into one genius appetizer.
7. Buffalo Chicken Stuffed Potato Skins
Another perfect fusion food, BS in the Kitchen kicks twice-baked potatoes up a notch with spicy buffalo flavor.
6. Buffalo Chicken Burgers
The best of both worlds: this chicken burger recipe from Little Leopard Book is a healthier alternative to either regular burgers or wings. Plus, it's absolutely delicious.
5. Buffalo Chicken Macaroni and Cheese
Craving that buffalo flavor between Sunday games? This simple mac 'n' cheese recipe from The Girl Who Ate Everything is easy enough to whip up for any weeknight meal.
4. Crispy Buffalo Chicken Pizza
If you've never had chicken wing pizza, you're in for a real treat. Laura's Sweet Spot doubles up on flavor by using pre-packaged buffalo chicken strips and extra hot sauce all over.
3. Buffalo Chicken Grilled Cheese Sandwich
There are few foods on this earth more comforting than a warm grilled cheese sandwich. Closet Cooking's buffalo twist is perfect for satisfying all those melty, gooey, cheesy, and spicy cravings all at once.
2. Buffalo Chicken Deviled Eggs
Here's a combo we never would have come up with on our own. They look fancy and taste great, but the folks over at Babble promise they're incredibly easy.
1. Buffalo Chicken Cupcakes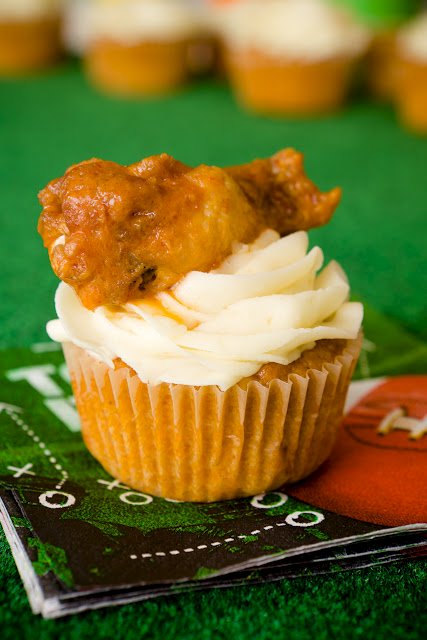 Yes, we went there. Or rather, the Cupcake Project went there for us. Both a head-scratcher and a crowd-pleaser, these cupcakes are more appetizer than dessert, though your guests will still be talking about them long after the fourth quarter.