Sugar and spice is nice, especially in a warm bath of frothed milk. But if you're looking to expand your tea horizons this season, try one of these make-at-home drinks that are just as warm and comforting as any store-bought chai. With all the health benefits of tea and the healing properties of herbs and spices mixed in, your body won't be able to thank you enough.
10. Liquid Gold Turmeric Latte
Turmeric and ginger combine in this warming drink from Poppies and Papayas for a double boost of anti-inflammatory properties, digestive health, and increased circulation.
9. Orange Clove Tea
The aroma of oranges and cloves in Season with Spice's tea might get you a little prematurely holiday-happy, but it's never too late for a detox or too early to start online holiday shopping.
8. Matcha Green Tea Latte
Matcha is a fine-ground powder of green tea leaves, giving you an extra-concentrated punch of antioxidants. It's delicious with milk, as The Vintage Mixer writes, but it's also a great flavoring for cookies and cakes.
7. Soothing Ginger Tea
As much as we romanticize fall, it's also the start of the dreaded cold and flu season. Ward off unwanted germ intruders with a hot brew of ginger, lemon, and honey, courtesy Katy's Kitchen.
6. Sage Tea
Sandra's Easy Cooking lists a whole slew of sage's health properties that we didn't even know about. Lesson learned: Get some sage. Stat.
5. Sudanese Cinnamon Tea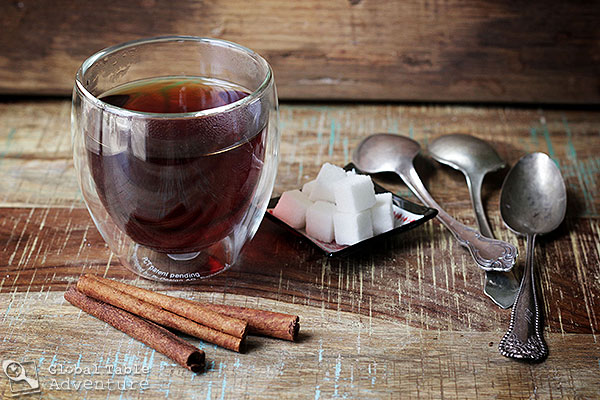 Try drinking this tea with a sugar cube between your teeth, like the local women in Global Travel Adventure's recipe do. Maybe practice at home before taking it to the water cooler.
4. Pomegranate Tea
For a fruity drink that's not overly sweet, try this brilliantly hued pomegranate tea from The Broken Bread.
3. Sweet Saffron Milk
Those little golden strands of saffron are famously expensive, but they're also wildly delicious and healthy. Adventuress Heart soaks the strands in water overnight to extract as much goodness as possible.
2. Sweet Potato Goguma Latte
Come again? A sweet potato latte? This is a Korean drink that The Little Leopard Book liked so much, she had to recreate it at home — we can't wait to try, too.
1. Goji Lemon Tea
Super-start your day with the superfood goji berry. With lemon, cayenne, maple syrup, and tea, the Lunch Box Bunch's morning wake-up routine will give you a clean slate every day.