Despite the colder and shorter days, there's a lot to look forward to this season — the arrival of pomegranates being one of our favorites. Though those tangy-sweet arils are delectably addictive and delicious on their own, there's a thousand ways to incorporate the insatiable flavor into your seasonal baking and cooking. Here's just 10 tips to get you started.
10. Seeding and Juicing a Pomegranate
Pomegranate 101: How to crack it open and get to the good stuff without making a huge mess. Plus, juicing a pomegranate for use in other recipes, or just to enjoy by the glassful. Via The Shiksa in the Kitchen.
9. Pomegranate Molasses & Syrup
Closet Cooking spells out recipes for two more staples of pomegranate cooking: molasses and syrup. There's no limit to what you can do from there.
8. Pomegranate Salads
An easy and healthful way to jazz up your salads for the colder months is with a burst of pomegranate seeds, like Katie at the Kitchen Door's Arugula Salad with Pears and Pomegranate Gremolata.
7. Pomegranate Salsa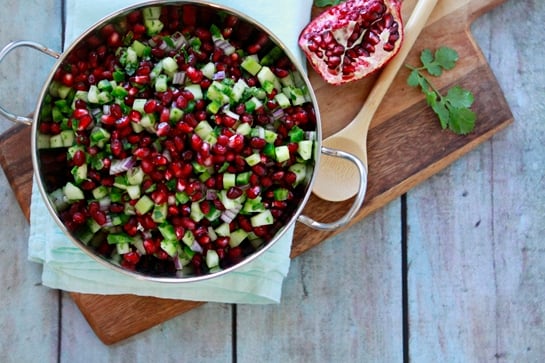 Sub this season's red fruit for the tomatoes of summer, and get a zesty and healthy salsa fresca to last you all winter through. Recipe from Good Life Eats.
6. Pomegranate Chocolate Swirl Cupcakes
Pomegranates and chocolate marry beautifully in these sinfully adorable cupcakes from Evil Shenanigans, which incorporate the fruit's flavors in both cake and frosting.
5. Pomegranate Rice
This simple idea from Pasta Princess and More really makes the most of the superfruit, which is bursting with vitamins and antioxidants. Consider taking your leftovers to Martha Stewart for an arancini adventure.
4. Grenadine
It's not just another Tequila Sunrise… it's one you've conjured from scratch with your own grenadine syrup, following this recipe from Arctic Garden Studio.
3. Pomegranate Walnut Relish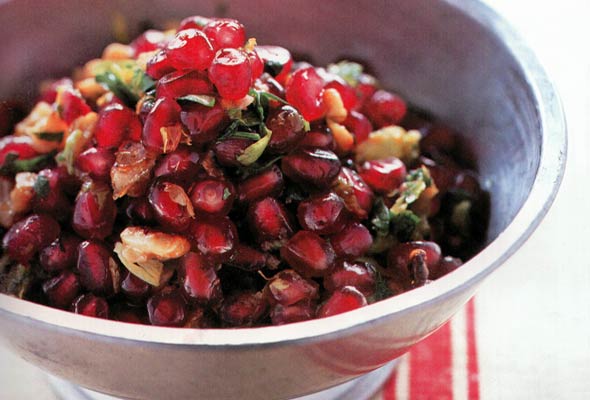 Spoon it over seafood and meat, mix it in with grains, or use it as a fashionable crostini topping. Whatever you do, good luck trying to stop once you've started in on this relish from Leite's Culinaria.
2. Pomegranate Sorbet
Revel in the beautiful flavors and colors of poms all night long with a simple sorbet, like this recipe from Williams-Sonoma that can be made with or without an ice cream machine.
1. Duck Breasts with Pomegranate Glaze
Pomegranates have a long-standing history in Middle Eastern cuisine, with glazed duck as a special delicacy. This recipe from Reluctant Gourmet is about as basic as it gets — but it doesn't stop there. Lamb, steak, chicken, and salmon all make killer pairings with pomegranates, too.